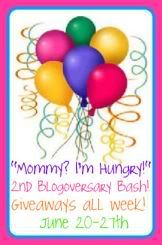 -let me know if this code doesn't work for you- Please double check it clicks back to my blog, I've seen many who have the code wrong. Thanks!

You're invited!! Take my Blogoversary Celebration Bash button and spread the word around! Paste it to your blog, share the news on Twitter, Facebook, Myspace and then comment below with your link... "Mommy? I'm Hungry!" is turning 2! It'll be a great party here!
I hope you can attend, I've got party hats for everyone! Be sure to follow along with my blog and twitter so you don't miss out on this party! =)

*If you were so kind to add my party button to your site before the 20th, you will earn 1 extra entry per day (that's 7 bonus entries!!)! You must comment below with your name & link so I can verify and I will place your bonus comments during the party!