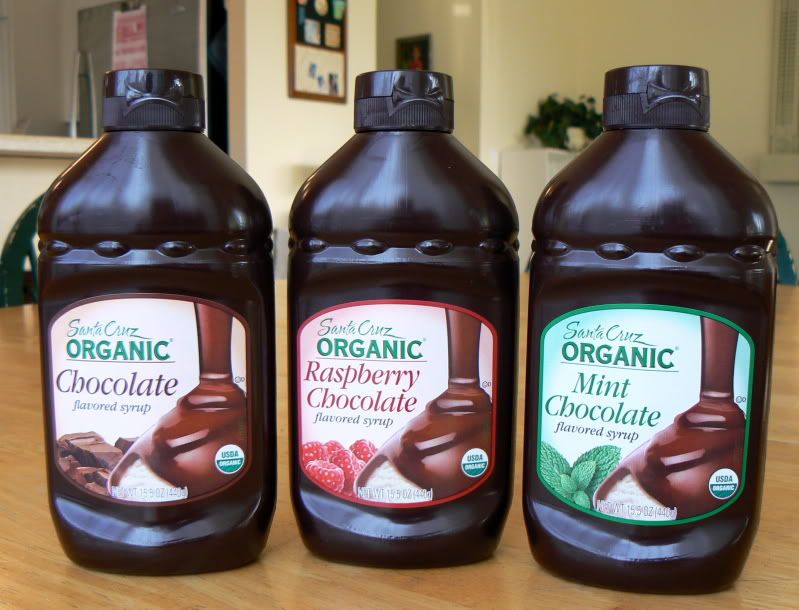 This Valentine's Day don't give your loved ones high fructose corn syrup or artificial flavorings. Show them you really care with wholesome certified organic ingredients such as
Santa Cruz Organic's line of chocolate syrups
.
Ditch the box of chocolates and say "I love You – and the planet" with these tasty organic Valentine's Day treats:
*Start a cold February morning off right with a steamy mug of mint hot chocolate. Stove heat milk and add in
Santa Cruz Organic Mint Chocolate
. For an extra touch, add dark chocolate shavings and top with whipped cream. For peppermint mochas, replace half of the milk with fresh coffee.
*Drizzle
Santa Cruz Organic Raspberry Chocolate sauce
over Profiteroles filled with whipped cream, ice cream or pastry cream for an after-dinner indulgence.
*Simmer
Santa Cruz Organic Chocolate sauce
in a saucepan over low heat and dip fresh organic strawberries in it for chocolate dipped strawberries in a jiff. Let cool on wax paper.
*Top vanilla ice cream with brownies and Raspberry Chocolate Sauce for a decadent dessert.
I went and got some vanilla ice cream to enjoy with the
Raspberry sauce
. The kids had the
mint chocolate
on theirs. It was delicious! We loved the flavored chocolate sauces. We're going to have to try them as flavored chocolate milks next. I think for Valentine's Day dessert, I'll warm up some chocolate sauce for strawberries and shortcake dipping. Sounds delish!
Why chose organic? Peace of mind. Santa Cruz Organic is committed to producing the world's finest certified organic products without the extra helping of pesticides. For a store location near you,
check here
.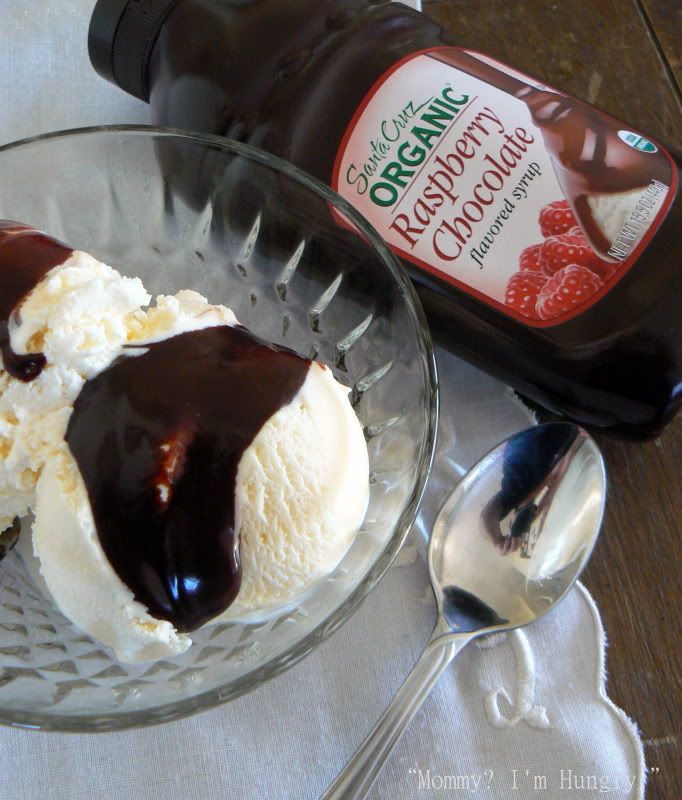 THREE "Mommy? I'm Hungry!" readers will each receive one of each of the 3 Santa Cruz Organic Chocolate Syrup flavors!



(This is a must before any extra entries will be accepted!)
1. Become a MIH Blog Follower with either Google Friend Connect or by email and tell me
if you win which flavor you'll dig into first, and if it'll be with ice cream, drink or other dessert!
Earn up to 3 extra entries by showing some "Mommy? I'm Hungry!" bloggie

♥

with these rules*!


-Please post yourself 1 separate comment for each entry, Thanks!
2. Follow me on Twitter
@MommyImHungry
and tweet about this giveaway URL
(use my Tweet buttons above or below this post)
3. Become a MIH Facebook Fan
4. Follow along with
my
MIH
recipe blog
if you're hungry
This Giveaway ends:

11:59 pm pst, Thursday, February 24, 2011.
Please read the fine print:
- Open to USA
- Please leave your email
- Winner(s) will be notified by email (check junk files!) & announced on my Blog, Twitter & FB soon after
- I will choose my winner(s) using Random.org
- Winner(s) will have 72 hours to claim their prize before a new winner is chosen
- Important! Please read about my giveaway rules
HERE
*
Be sure to check out my other giveaways too!
I wrote this review for "Mommy? I'm Hungry!" about Santa Cruz Organic Chocolate Syrups . I received free product to keep for this review from Santa Cruz. All opinions for this review are that of myself & family. Product info & stock images provided by PR or Co.