Thursday Night Pizza by Fr. Dominic Garramone
After twenty years of testing recipes on his fellow monks, Father Dominic of public television s Breaking Bread offers a surprising variety of pizza recipes sure to please every palate. With his customary detailed and easy-to-follow directions, Father Dom shows you how to make the perfect crust (the real key to first-rate pizza), flavorful homemade sauces, and savory toppings. You ll discover a delicious reduced-fat sausage that is both easy and economical, the way to avoid soggy crusts, and a magic trick to have warm, crusty bread waiting for your breakfast the morning after pizza night. Recipes include six different doughs, seven sauces, and dozens of pizzas like Pesto and Prosciutto Pizza, Muffaletta Pizza, The Denver Diner Special, Mediterranean Vegetable Pizza, Pizza Diavolo, and Fig and Papaya Dessert Pizza.
I decided to make dessert. He's got a wonderful Apple Pie Pizza in his book. It uses a sweet dough, which I cheated and made in my bread machine on the dough cycle. It actually makes two doughs, so I have one in the freezer for later use. I did let it sit in the fridge for most of the day before making into Apple Pie Pizza. Oh my gosh, this was SOOO good! I think the apricot preserves gives it something special. We loved it, as did the neighborhood boys who got to try it too.
Apple Pie Pizza
14 oz sweet crust
3 Tbl butter
4-5 medium tart apples, peeled, cored, quartered and sliced
1/2 C brown sugar (I used 2 Tbl splenda blend)
1 tsp cinnamon
1/4 tsp salt
1/2 C apricot preserves
1/2 chopped pecans ( I used toasted walnuts)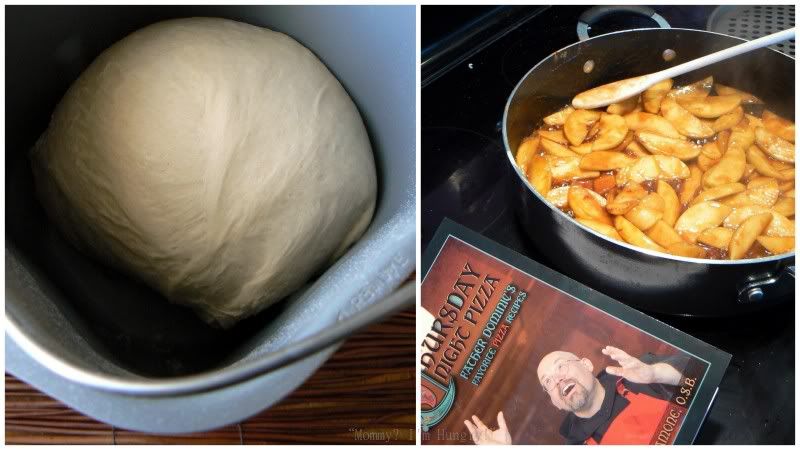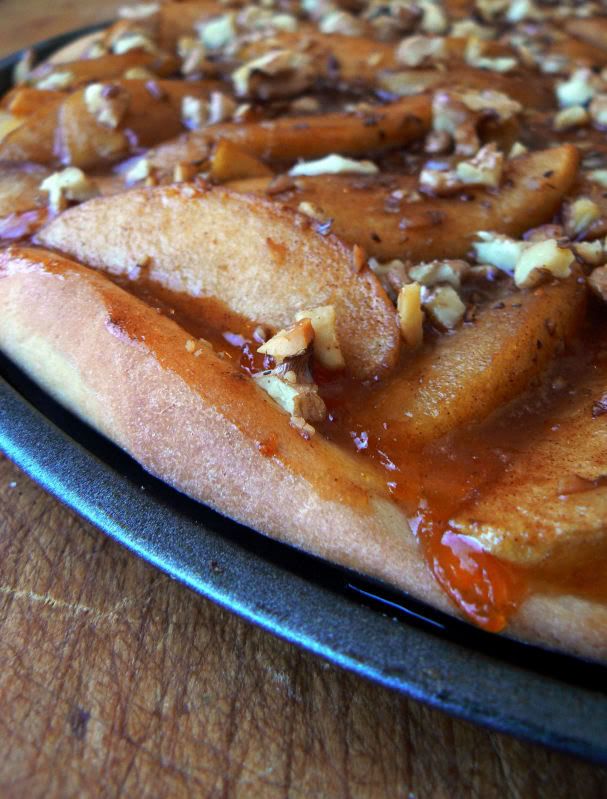 I wrote this review for "Mommy? I'm Hungry!" about Thursday Night Pizza. I received free product to keep for this review from PR. All opinions for this review are that of myself & family. Product info & stock images provided by PR or Co.