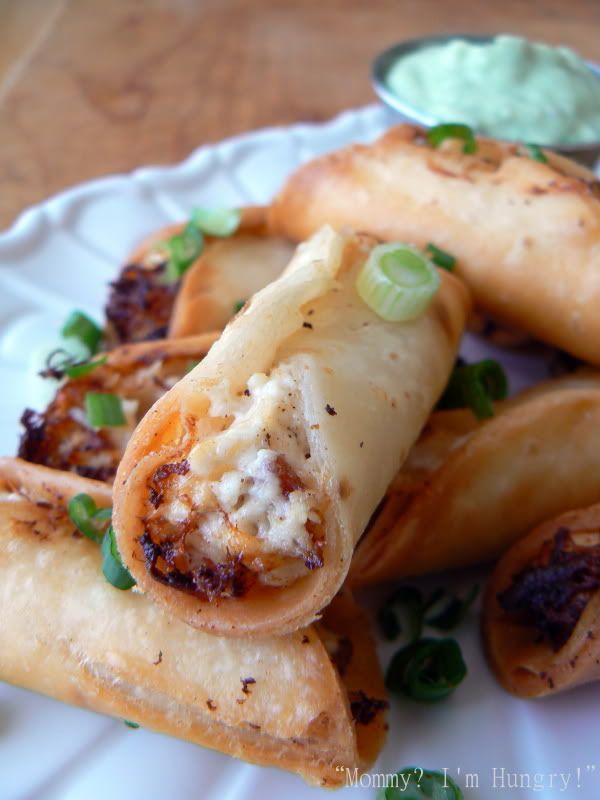 Chicken, Bacon and Cream Cheese Mini Taquitos
As you may know, Swanson is perfect for busy moms, everyday meals, healthy snacking or great for entertaining. It is already cooked and ready to use for quick and easy everyday meals, from sandwiches and salads, to soups and main dishes. And it's certified by the American Heart Association (AHA)—so you know it's the great choice for your family. It's 98% fat free, contains no preservatives and is all white meat.
This past fall, Swanson challenged ten food bloggers to compete in their Ultimate Football Recipe Challenge Three winning bloggers had their recipes professional tested by their Kitchen and photographed. See their YouTube video here:
http://youtu.be/UNIPD4DMlE0
.
The three winning bloggers were:
-Real Mom Kitchen's
Quick Chicken Enchiladas Nachos

-Hazzard in the Kitchen's End Zone Empanadas
-Taste and Tell's Chicken, Bacon and Cream Cheese Mini Taquitos

Who's got the March Madness Basketball fever going on? Check out these recipes from other Bloggers and Swanson that'll sure score big points! OK we're not basketball fans here, but I was told March Madness starts today and these taquitos I made sure were a hit! We loved loved loved them! The guac dip was amazing too!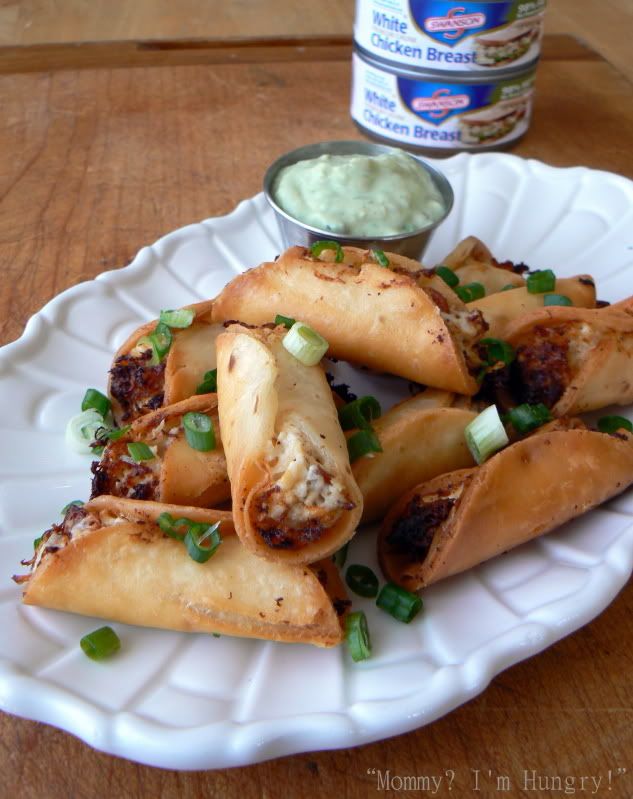 Taste and Tell's Chicken, Bacon and Cream Cheese Mini Taquitos


as seen at

CampbellsKitchen.com



1/3 of a 16-ounce package bacon (about 6 slices), chopped
1/2 of an 8-ounce package cream cheese, softened
2 cans (12.5 ounces each) Swanson® Premium White Chunk Chicken Breast in Water, drained
8 flour tortillas (10-inch)
Vegetable oil

(I used canola)


1 medium avocado, pitted, peeled and cut up
1/4 cup mayonnaise
1/4 cup sour cream
1 tablespoon milk
1 1/2 teaspoons white vinegar
1/8 teaspoon salt
1/8 teaspoon dried parsley flakes
1/8 teaspoon onion powder
dash Dried dill weed
dash Garlic powder
dash Ground black pepper

1.Cook the bacon in a 10-inch skillet over medium heat until crisp. Remove the bacon from the skillet and drain on paper towels.
2.Stir the bacon, cream cheese and chicken in a medium bowl.
3.Cut each tortilla into 3 (3-inch) circles using a round cutter. Spoon about 2 teaspoons chicken mixture in the center of each tortilla round. Roll the tortillas around the filling and secure with toothpicks.
4.Pour the oil into a heavy 4-quart saucepan to a depth of 3 inches. Heat the oil to 350°F.
5.Add the taquitos to the saucepan in batches and cook until well browned on all sides. Remove the taquitos from the saucepan and let drain on paper towels. Let cool for 5 minutes. Remove the toothpicks before serving.
6.Mash the avocado in a medium bowl with a fork. Stir in the mayonnaise, sour cream, milk, vinegar, salt, parsley, onion powder, dill weed, garlic powder and black pepper. Serve with the taquitos for dipping.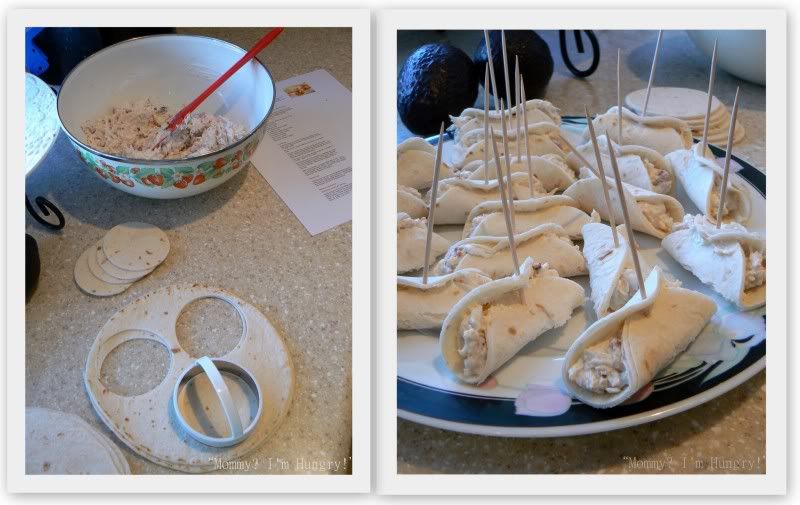 TWO "Mommy? I'm Hungry!" fans will win
three coupons each for FREE Swanson Premium Chunk Chicken
!
(This is a must before any extra entries will be accepted!)
1. Become a MIH Blog Follower with Google Friend Connect (see side bar) and visit their site for March Madness then tell me which recipes you'd like to try!
Earn up to 4 extra entries by showing some "Mommy? I'm Hungry!" bloggie

♥

with these rules*!


-Please post yourself 1 separate comment for each entry, Thanks!
2. Subscribe to MIH in RSS/email feed
3. Follow me on Twitter
@MommyImHungry
and tweet about this giveaway URL
(use my Tweet buttons above or below this post)
4. Become a MIH Facebook Fan, and say a Hello on my fanpage!
5. Follow along with
my
MIH
recipe blog
if you're hungry!
This Giveaway ends:

11:59 pm pst, Monday, March 28, 2011.
Please read the fine print:
- Open to USA
- Please leave your email
- Winner(s) will be notified by email (check junk files!) & announced on my Blog, Twitter & FB soon after
- I will choose my winner(s) using Random.org
- Winner(s) will have 72 hours to claim their prize before a new winner is chosen
- Important! Please read about my giveaway rules
HERE
*
Be sure to check out my other giveaways too!
I wrote this review for "Mommy? I'm Hungry!" about Swanson Premium Chicken. I received free product to keep for this review from PR. Thank you! All opinions for this review are that of myself & family. Product info & stock images provided by PR or Co.