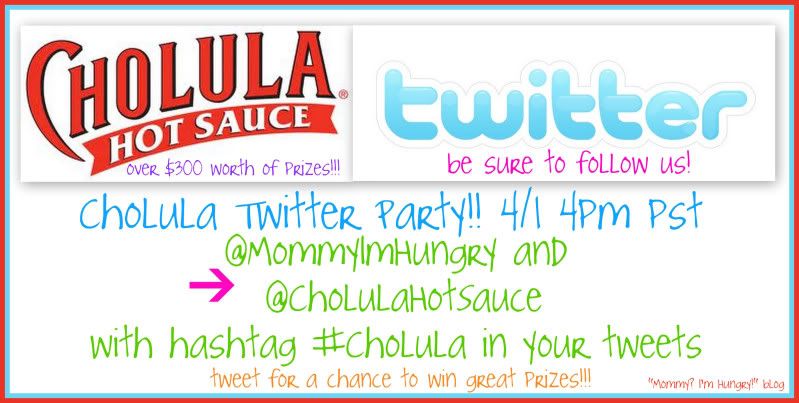 Do you guys have a Twitter account? Well I hope so! Tomorrow, 4/1 Friday at 4 pm -5:30 PST I will be hosting my very first Twitter Party on behalf of Cholula hot sauce!! It may be April 1st, and this is no joke! In fact, this may be the best April Fool's Day you've ever had! =)
March Madness Twitter Party & Giveaway
Hosted by myself @MommyImHungry and @CholulaHotSauce
You're invited to our Twitter Party! Please join cooking blog, "Mommy I'm Hungry" and Cholula Hot Sauce as we celebrate March Madness! We'll be talking about the Final 4, cooking, tailgating recipes, hot sauce, and more! It's going to be a great conversation and awesome prizes will be up for grabs throughout the party. Participating is easy, here's what you'll need to know:
Date: Friday, April 1st, 2011
Time: 4:00 – 5:30 PM PST
Prizes:
•Grand Prize: Calphalon Simply Calphalon Nonstick 10-pc. Cookware Set ($200 value) http://bit.ly/hCZEkC
•Second Place: 2 x $50 gift card to Williams Sonoma
•Runner Up: 6 x Cholula 4-packs (includes one of each original Cholula flavor, t-shirt, hat)
How to Join:
•Follow the hosts on Twitter, @MommyImHungry and @CholulaHotSauce.
•Participate in the discussion and respond to questions being asked by @MommyImHungry. Make sure to follow the hashtag #Cholula and include it at the end of all your tweets!
•Winners will be selected at random approximately every 10 minutes, for answering questions and tweeting with the hashtag #Cholula.
We're expecting lots of lively March Madness banter and great foodie talk! If you enjoy cooking or tailgating you won't want to miss out on the great prizes we're offering – we hope to see you there!
I wrote this Buzz for "Mommy? I'm Hungry!" about my Cholula Twitter Party. I will receive free product to keep for this Hosting this party from Cholula PR. Product info & stock images provided by PR or Co.