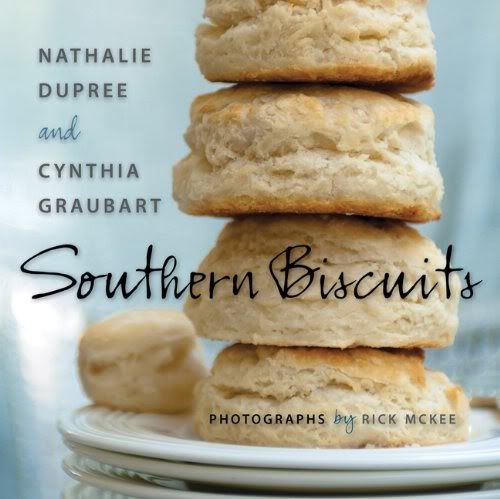 As we all know, nothing quite says comfort like a delicious, flaky, buttery biscuit. And renowned Southern chef Nathalie Dupree and co-author Cynthia Graubart have just completed the definitive cookbook teaching all of us how to create the perfect Southern biscuit for all occasions!

James Beard Award-winning Chef Nathalie Dupree's latest cookbook Southern Biscuits reveals the best secrets, tips and tricks to creating basketfuls of biscuits – everything from simple two ingredient biscuits to flavor-packed Cranberry-Orange Biscuits.

Stay tuned for Nathalie and Cynthia's new release, Mastering the Art of Southern Cooking, coming this Fall!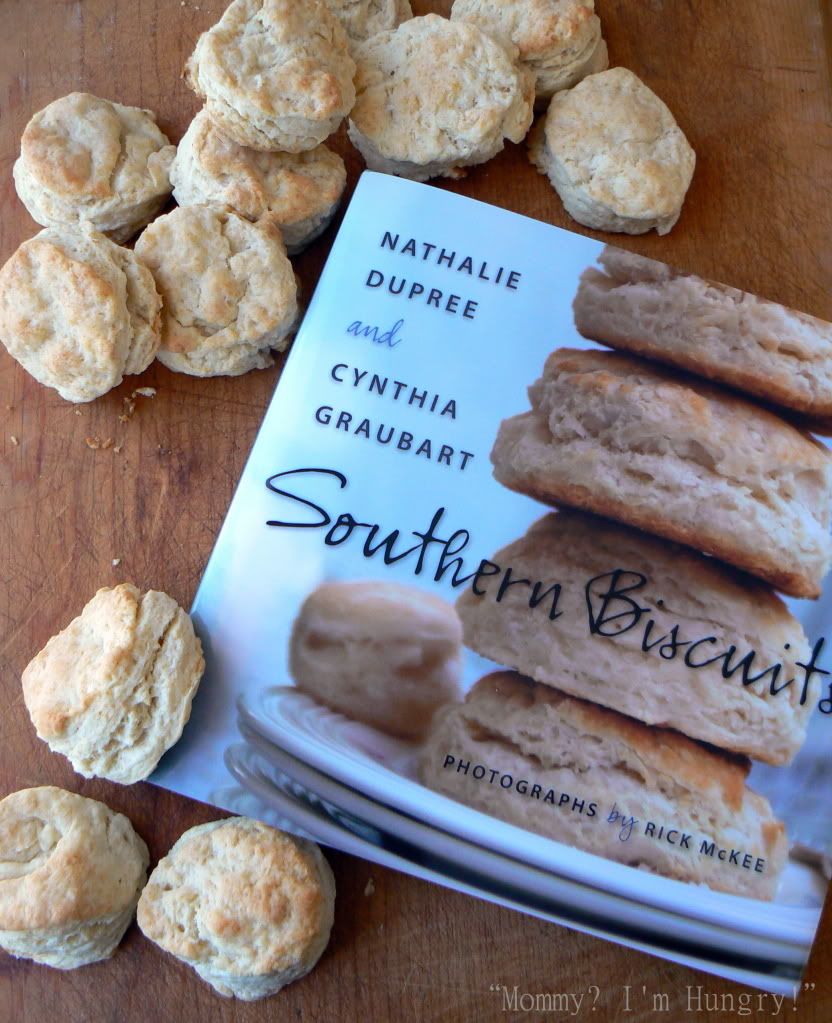 Mmm, biscuits! A whole book on biscuits! A gorgeous hardcover book full of recipes, photos, detailed directions and tips. I decided to make two recipes, that would be combined into one.
Baking Powder Biscuits
and the
Overnight Biscuit, Sausage, and Apple Casserole
. It was delish, infact it may become a regular item around here. I made half the recipe for an 8x8 pan since the kids don't normally eat this kind of food. Mr. and I loved it! Biscuits, sausage, cheddar cheese, apples and eggs all cooked up!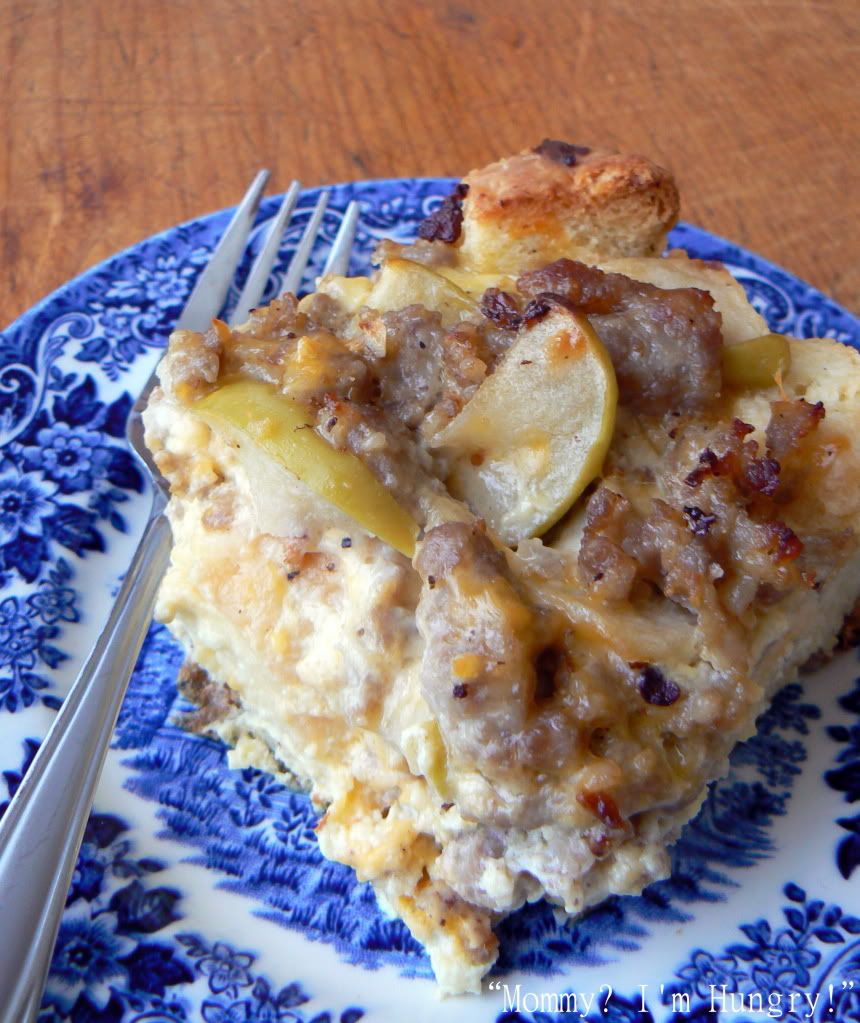 Overnight Biscuit, Sausage, and Apple Casserole
Serves 8
Sausage and apple is one of my favorite food combinations, and I find ways to cook it into everything from quiches to this soufflé-like casserole, great for a brunch or long weekend.
2 pounds bulk sausage
2 tart apples, cored and sliced
6 cups torn or cut biscuits in 1⁄2-inch pieces
9 eggs, beaten
3⁄4 teaspoon Dijon mustard
1 1⁄2 cups grated sharp cheddar cheese
3 cups milk
Salt and freshly ground black pepper
Fry the sausage in a skillet, breaking it up as it cooks, and drain on a paper towel. Reserve the fat and let the sausage cool. Saute the apples in the reserved fat, remove from pan, and let cool.
Move the biscuit pieces to a large resealable plastic bag.
Whisk together the eggs, mustard, cheese, and milk in a large bowl. Stir in the sausage and apples. Season to taste with salt and pepper. Transfer the mixture to the plastic bag. Place the bag inside another resealable plastic bag with the zipper facing another direction in order to prevent leaks. Refrigerate at least 2 hours, preferably overnight or up to 2 days.
When ready to bake, preheat oven to 350 degrees F. Pour mixture into a buttered 13 x 9 x 2-inch baking dish or divide between two 1 1⁄2-quart casseroles. Bake covered 30 minutes. Uncover and bake another 30 minutes until eggs are set and the center measures 200 degrees F on an instant-read thermometer.
Recipe excerpted from "Southern Biscuits" by Nathalie Dupree and Cynthia Graubart. Reprinted with permission of Gibbs Smith.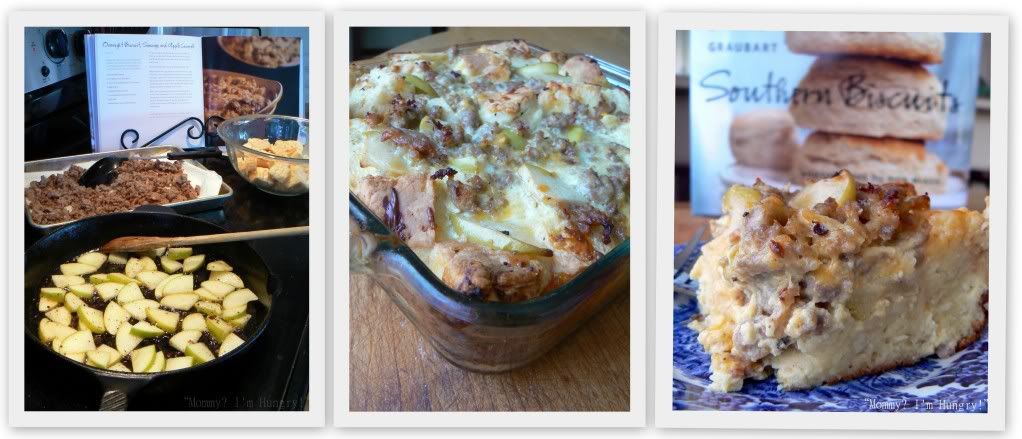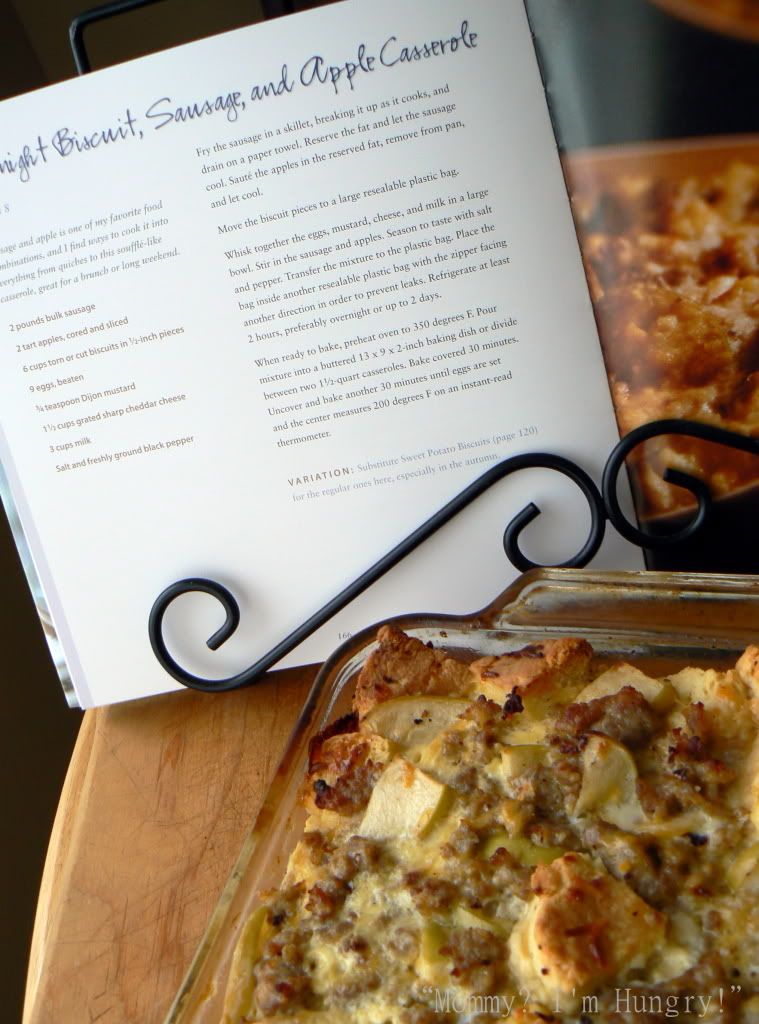 TWO "Mommy? I'm Hungry!" fan will win: a copy of Southern Biscuits Cookbook!
(This is a must before any extra entries will be accepted!)
1.
Become a MIH Blog Follower with Google Friend Connect (see side bar)
and
tell me what your favorite biscuits are, do you use them in a recipe?
Earn up to
4 extra entries
by showing some "Mommy? I'm Hungry!" bloggie
♥
with these rules*!
-Please post yourself 1 separate comment for each entry, Thanks!
2. Subscribe to MIH in RSS/email feed
3. Follow me on Twitter @MommyImHungry
and
tweet about this giveaway URL + use @MommyImHungry in your tweet. (or use my Tweet buttons above or below this post)
NEW! + 1 Daily Tweet & extra entry allowed everyday!
4.
Become a
MIH Facebook Fan
,
and
say a Hello on my fanpage!
5.
Follow along with
my MIH recipe blog
if you're hungry!
This Giveaway ends:

11:59 pm pst, Tuesday, May 10,
2011.
Please read the fine print
- Open to USA & Canada!
- Please leave your email
- Winner(s) will be notified by email (check junk files!) & announced on my Blog, Twitter & FB soon after
- I will choose my winner(s) using Random.org
- Winner(s) will have 72 hours to claim their prize before a new winner is chosen
- Important! Please read about my giveaway rules
HERE
*
Be sure to check out
my other giveaways
too!
I wrote this review for "Mommy? I'm Hungry!" about Southern Biscuits. I received free product to keep for this review from PR. All opinions for this review are that of myself & family. Product info & stock images provided by PR or Co.