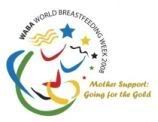 In honor to help promote World Breastfeeding Week, Linda has put on a Got Milk? blog event. I made Dorie Greenspan's Chocolate Pudding. This is my story.

Nursing did not come easy for my first 2 children, the longest they fed was up to 4 months. When my 3rd child came along, I was determined to nurse much longer. I read lots of information, talked to nursing moms, and surfed the Internet all I could. Once he was born and as soon as we could, we nursed. I talked to a lactation consultant to get her support before heading home from the Hospital. Once home, I did everything I could to help build my supply, from eating oatmeal, taking Fenugreek, Mother's Milk Tea, drinking lots of water, pumping throughout the day and nurse nurse nurse all the time. I am proud to say, that at 15+ months and still going, he's a happy happy boy and I am a happy momma! While my supply was never bountiful, we did use some formula to supplement. Now that that is gone, he is on cow's milk and still likes his mama's milk too. To all the nursing mom's of the World, I bring you chocolate pudding. Keep up the good work, it's doing your little one good as well as yourself.





This pudding was tricky to make. There were lots of steps of cooking it, processing it, whisking it...and of course I tried to do them all at once. Add 3 kids running around you in the kitchen, while you're trying not to burn the pudding, fun. This came out really beautiful, creamy, rich and extremely chocolaty! It set up almost immediately too. I will definitely be making this again and again. Click here for the recipe.




Sharing again in 2012: