One of my favorites. I love it cold the next day, best. One con about this dessert, there is never enough pudding to go with all the cake. I've doubled that part before, and had a big disaster in the oven. This time I made it with out the coffee. This recipe is very similar to one my mom makes. This has more cocoa, butter and vanilla in it. I prefer this one, Shhh.

1 cup all-purpose flour
2 teaspoons baking powder
1/4 teaspoon salt
3/4 cup granulated sugar
3 tablespoons unsweetened cocoa powder
1/2 cup milk
2 tablespoons butter, melted
1 tsp vanilla
1 cup brown sugar
1/4 cup unsweetened cocoa powder
2 cups hot water

Preheat oven to 325 degrees F. Grease and flour a 9 inch square pan.
In a medium bowl, mix together the flour, baking powder, salt, sugar, and cocoa.
Stir in the milk, melted butter & vanilla. Spread evenly into the prepared pan.
In a small bowl, combine the brown sugar and cocoa. Spread over the top of the batter in the pan.
Pour the hot water over the entire pan of batter.
Bake for 40 minutes in the preheated oven.
The cake is done when the cake part is on top and the bottom is of a pudding consistency.





Sharing some with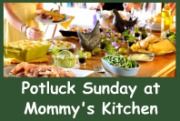 enjoy,