see more of these at
my Flickr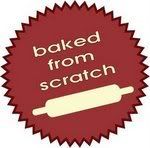 I volunteered to donate some homemade baked goods for my little one's Halloween Festivities at school, for the
cake walk game
. I wonder if any of the 6 winners that chose mine, will visit my Blog
(ok, so I snuck in a website URL card, heehee).
Here is what I baked up:
Green and orange
vanilla cupcakes
from Joy of baking:
Vanilla Cupcakes:

1/2 cup (113 grams) unsalted butter, room temperature
2/3 cup (130 grams) granulated white sugar
3 large eggs
1 teaspoon pure vanilla extract
1 1/2 cups (210 grams) all purpose flour
1 1/2 teaspoons baking powder
1/4 teaspoon salt
1/4 cup (60 ml) milk
-food coloring
Preheat oven to 350 degrees F (177 degrees C) and butter or line 12 muffin cups with paper liners.
Cream the butter and sugar until light and fluffy. Add the eggs, one at a time, beating well after each addition. Beat in the vanilla extract.
In a separate bowl whisk together the flour, baking powder, and salt.
With the mixer on low speed, alternately add the flour mixture and milk, in three additions, beginning and ending with the flour, stir in food coloring. Scrape down the sides of the bowl.
Evenly fill the muffin cups with the batter and bake for about 18-20 minutes or until nicely browned and a toothpick inserted into a cupcake comes out clean. Remove from oven and place on a wire rack to cool. Once the cupcakes have completely cooled, frost with icing. If you want flat topped cupcakes then slice off the dome of each cupcake, with a sharp knife, before frosting.
Orange and green
cream cheese frosting
from Art of Dessert:
Frosting:
8 oz. bar cream cheese, cold
1/2 cup butter , softened to room temperature
1 tsp vanilla extract
3 1/2 cups powdered sugar, measure then sift
-food coloring
Beat the cream cheese and butter till blended.Mix in vanilla extract. Slowly add the powdered sugar, a cup at a time.Once all the powdered sugar is added, increase to a higher speed to whip up the frosting till light and fluffy. Stir in food coloring. Frost cupcakes.
(I recommend serving these within a couple of hours and storing these in the fridge so the frosting doesn't break down or melt)
Sugar cookies
with sprinkles from Betty Crocker.
3 cups powdered sugar
2 cups butter or margarine, softened
2 teaspoons vanilla
1 teaspoon almond extract
2 eggs
5 cups all-purpose flour
2 teaspoons baking soda
2 teaspoons cream of tartar
In large bowl, beat 3 cups powdered sugar, the butter, vanilla, 1 teaspoon almond extract and eggs with electric mixer on medium speed, or mix with spoon. Stir in flour, baking soda and cream of tartar. Cover and refrigerate at least 2 hours.
Heat oven to 375°F. Lightly grease cookie sheet. Divide dough in half. On lightly floured surface, roll each half 1/8 inch thick. Cut into desired shapes with 3-inch cookie cutters. Place about 2 inches apart on cookie sheet.
(I use use larger cookie cutters, and sprinkle with colored sugars/sprinkles before baking)
Bake 5 to 7 minutes or until edges are light brown. Remove from cookie sheet to wire rack. Cool completely, about 30 minutes.
if only they stayed looking like this
Ok, so these didn't make it to the Halloween Festival. For some strange reason, these buggers spread out and lost their cookie cutter shape and became too big for the containers. They looked like blobs of sprinkled sugar cookies. I tried freezing the cutouts for a bit then baked right away, that helped some but I still wasn't impressed with their shapes, but they tasted great. Anyways, these are a favorite, that make it to my Holiday cookie trays every year.