I had some leftover ganache and decided to make truffles with it. I needed to get myself into the 'Holiday treats' mood and start sharing some favorites with you. These are super easy to do!
By the way, this ganache is delish
spread on a brownie
!
These are now part of Susan's Christmas cookie blog event. Check out the
submissions
so far!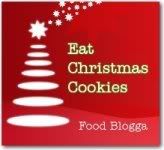 Ganache:
8 ounces (227 grams) semisweet or bittersweet chocolate, cut into small pieces
3/4 cup (180 ml) heavy whipping cream
2 tablespoons (28 grams) unsalted butter
1 tablespoon vanilla extract, cognac or brandy (optional)
Toppings:
Dutch-Processed Cocoa Powder
Confectioners Powdered Sugar
Place the chopped chocolate in a medium sized stainless steel bowl. Set aside. Heat the cream and butter in a medium sized saucepan over medium heat. Bring just to a boil. Immediately pour the boiling cream over the chocolate and allow to stand for 5 minutes. Stir with a whisk until smooth. If desired, add the flavoring.
Cover and place in the refrigerator until the truffle mixture is firm (this will take several hours or overnight).

Place your coatings for the truffles on a plate. Remove the truffle mixture from the refrigerator. With your hands, or else a melon baller or small spoon form the chocolate into round or mis-shaped bite-sized balls. Immediately roll the truffle in the coating and place on a parchment lined baking sheet or tray in little mini cupcake liners. Cover and place in the refrigerator until firm. Truffles can be refrigerated for a couple of weeks or else frozen for a couple of months. Bring to room temperature before serving.