This month's Cookie Carnival is the
Almond Macaron Sandwich Cookie
from Williams-Sonoma you can find the recipe
here
. As you may know,
macarons
have been on
my to-make list
since forever ago. I have always been intimidated by them, reading many blogs, tips and tricks about them, so that one day I could suck it up and just try them. I never did, until this month's challenge was sent out. I am happy to say I can now cross these off my list! I couldn't help but think that maybe somewhere in Paris, real French macarons were being made and eaten the same time I was making them.
They are nothing perfect, they need more practice. Lots more. lol. C'mon, you can laugh outloud! I know they look silly! I managed to find a few that were the same size and looked ok for photos.
I was kinda rushed and dealing with a cranky boy, I wanted time to read over notes I've found, but just didn't have time.
Here's what I did:
-used a 1/4" tip instead of a 1/2"
-used a small 9" vinyl bag instead of my big canvas pastry bag
*tip fell through it
-piped assorted size 'coils' instead of uh, 1 1/2" puddles?
*next time draw circles to follow
-let them sit out for 1/2 hr prior to baking to 'harden the shell'
-I used frozen-thawed egg whites
(lots of leftovers from TWD --next time let them sit out 24 hrs)
-ground up toasted almond slivers instead of hazelnuts
-to make super fine sugar, I pulsed granulated sugar in the processor
-used semi-sweet chocolate chips for the ganache,
*Nutella next time!
-I forgot to tap the pans to help flatten them
-baked them for 11-12 minutes on both a silpat and parchment
-they stuck on the silpat, but came off beautifully from parchment
-my batter seemed to be thicker than what I've seen before -Hmmm?
So, they may not be smooth or shiny little things, but it's my first time, and next time I know. They have cute little feet though! So I used a wet finger to smooth the points down, should I smooth the whole thing out next time? Or find a bigger tip?? They stuck to my silpats, about ripping out the insides. The ones baked on parchment came out nice and with a bottom.

They had a nice delicate crunch and they were very delicate piping the filling! I LOVE the flavor of them alone! We all did. I think that the ganache was a bit much for them, or maybe I put too much on. Anyways, I'd love to try these again after refreshing my mind with tips and tricks. I'm glad this was our challenge. I may have never attempted these otherwise! They weren't really hard to make either, maybe a little extra work, but hey, if you love baking....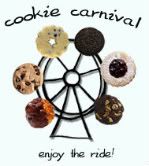 Some sites to peek at for more tips:
La Video

enjoy,