Maybe you've seen this event before? Kristen from Dine and Dish has been hosting this wonderful event for a while now. Round 3 recently went underway, and I was accepted *cough cough* as a veteran blogger searching for my newbie blogger to adopt. I think there was like 114 entries to be buddied up. Wow, such a great turn out!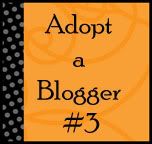 So what is Adopt A Blogger? It's where bloggers who have been actively blogging for over a year, get paired up with newer bloggers and mentor them while trying to figure this whole world of blogging out. This little blog of mine is turning 2 soon, and I can still learn some things, trust me. Maybe my adoptee can help me out too! So let me introduce you...

Kristen has paired me up with Tania from Love Big, Bake Often! Yay! She's feeling extra special about this because she has now been adopted twice in her life!
But she should be feeling even more special right about now, because today is her BIRTHDAY! Happy Birthday Tania! This post is my little gift to you.



So Tania have a little more in common than blogging. We're both married stay at home mommies (SAHM), she has 2 little boys, the kitchen is our friend, we both bake with TWD, we both believe in baking from scratch, she sews, I want to relearn to sew and we're the same age! I'm just jealous she gets more free time in the kitchen than I do! We're now Twitter and Facebook buddies as well. =) I hope I can help her with whatever she needs, her blog looks great as it is now!

So everyone Welcome Tania and head on over to Love Big, Bake Often, wish her a Happy Birthday today...tell her I sent ya!

I tried to post date this before you get online to surprise you. lol, it's 3am and I'm fast asleep. You may be up since it'd be about 6am, I don't know. =)