Carol of mix, mix… stir, stir wanted Perfect Party Cake this week. This is one recipe that always caught my eye when flipping through Dorie's book. I was so excited to get to make it! You can find the recipe on Carol's blog.

I went with the flavors Dorie wrote, lemon, raspberry and coconut shavings. This took a little bit of time to prepare, you had to mix for so many minutes (and please note, it does not say beat at full speed for 3 minutes! ha! I read it wrong and had my mixer almost dancing away, when I realized it said Medium speed for a full 3 minutes!) It was ok, I caught it after 1 minute. My cake baked beautifully for 30 minutes. When done it was only 1" tall though.


Next came the meringue butter cream frosting. 3 sticks of butter!! This took some cooking time, and about 10 minutes mixing time also. Well I am embarrassed to admit this, but maybe someone can learn from my mishap. My mixer dripped some greasy substance into the frosting while mixing! I got what I could out, and was so worried about eating it. I tasted it and all I could taste was the lemon. I decided to use a whipped cream for the filling as Dorie suggested, and the buttercream for the outside layers. Plus that way I would have plenty to frost with. Well I had lots leftover. I added some shaved coconut to finish it off.
Because I used whipped cream, I had to store it in the fridge. When it came time to slice it, the frosting had hardened and pretty much peeled right off the cake. Well I guess that was some relief to my worry of eating it. I did taste it, and it was velvety smooth, like a stick of butter! Was not my Fave. Then I wasn't crazy about the jam in it. The cake part was excellent though! Plus, Mr. ate some, and he's not a coconut fan. It went over well with them, just not me. I was so bummed I ended up not liking it all together. I would love to try the cake part another time with some fresh fruit and a light frosting perhaps.
Do you like our new TWD logos? Pretty spiffy huh!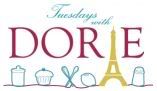 enjoy,