update #3 photo

Here it is! Lynne of Cafe LynnyLu decided on Dorie's Vanilla Ice Cream for her TWD week! I hear it's all a rave, so I was excited to try this. I made ours mint chocolate chip.

Since I don't have an ice cream maker, I used a method of making it without one by David Lebovitz. I heard this method worked great. I mixed it and froze it between the steps in my mixing bowl so it'd stay nice and cold and was ready to mix every 1/2 hour. Well the final result is, it never firmed up for me, the second I scooped it out, it was already like a milkshake. sigh. I left my progress up below, as I started making it late last night.

I served it over a piece of ganache glazed brownie for myself, the kids had theirs in a cone, with a spoon. haha
It was really good though, nice and minty, chocolate bits throughout, and a pretty shade of light green.

*Update #3! I am happy to report, that after another day and night in the freezer, it froze up much better! Yay!




I am using David Lebovitz method making it handmade without an ice cream maker...I started it about 8 pm and it's now about 2 am, and I'm still stirring it between freezes!! It's freezing up, but it's more of a loose set than firm so I'm going to chance it, and let it freeze and go to bed, stir it up again later and add the chocolate bits. Wish me luck! Check back later, I hope it works!

*1 pm update... it is setting up now, I decided to refreeze and mix again today since I wasn't happy with it (I left it unfinished and went to bed). I think it will be ready for this evening. It may be a late post.





Taking some cones with me to: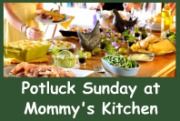 enjoy,