My good friend Faye @ GreenOrganicMama.com awarded my blog with this great Over the Top award.

Here are the rules for the Over the Top Award:
Use only ONE word to answer the following questions! You may copy and change the answers to suit you and pass it on. Once you have filed it out be sure to pass it on to 6 of your favorite bloggers. Alert them that they have been awarded! Have fun!


1. Where is your cell phone? broke (not anymore)
2. Your hair? frizzy
3. Your mother? home
4. Your father? home
5. Your favorite food? dessert
6. Your dream last night? friends
7. Your favorite drink? water
8. Your dream/goal? happy
9. What room are you in? "office"
10. Your hobby? photography
11. Your fear? kidnappers
12. Where do you want to be in 6 years? homeowners
13. Where were you last night? home
14. Something that you aren't? girly
15. Muffins? blueberry
16. Wish list item? Nikon
17. Where did you grow up? Worldwide (Navy)
18. Last thing you did? tv
19. What are you wearing? jammies
20. Your TV? big
21. Your pets? Heaven
22. Friends? online
23. Your life? good
24. Your mood? fine
25. Missing someone? family
26. Vehicle? SUV (but looking for more gas friendly vehicle)
27. Something you're not wearing? shoes
28. Your favorite store? Target
29. Your favorite color? blues
30. When was the last time you laughed? last night
31. Last time you cried? Aug.
32. Your best friend? reconnected
33. One place that I go to over and over? schools
34. One person who emails me regularly? Leslie
35. Favorite place to eat? Fuddrucker's


And now, the final rule: pass this award along to six other "Over The Top" bloggers!
OK, I can onnly post a few right (see below), so here they are:

1. Leslie Loves Veggies
2. Little Lady Cakes
3. Deep South Dish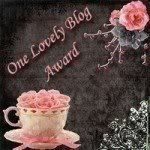 Heather @ My 2 Little Monkeys Plush Hubby
also gave me the "One Lovely Blog Award" also!

Here are the rules of the "One Lovely Blog Award":
Accept the award, post it on your blog together with the name of the person who has granted the award, and his or her blog link. Pass the award to 15 other blogs that you've newly discovered. Remember to contact the bloggers to let them know they have been chosen for this award.

Honestly, I have not discovered 15 new blogs lately, I've barely kept up with the ones in my Reader. I'm so behind! So I will hand it out to who I think has a One Lovely Blog lately:

1. Swains R 'Us
2. Rasa Malaysia
3. Homebody



A while ago I received 2 more, but I have forgotten what and who gave them to me. If you are reading this and gave "Mommy/ I'm Hungry" an award, please let me know, so I can pass them on!
Thank you!