See what happens when you watch too much food tv! Since you can't always get what they're having, you improvise and make it yourself. I had been watching some of those BBQ pit shows, you know, the real deal BBQ food. Well I don't live in the BBQ South or have a smoker, so what I did was crock pot it. haha.
I did a pork butt roast seasoned with salt and pepper, a tiny bit of chicken broth and poured a tiny capful of liquid smoke over the roast. I let it cook on high for 1 hour then I poured a little BBQ sauce over it and set it on low for about 6 hours. When it was done, I shredded it into big pieces and tossed it with some more BBQ sauce. Put it on a bun and topped it with a little slaw! A side of beans finished the plate off and we all chowed it down.
This is my favorite BBQ sauce. It's found
here
and I
blogged
about it sometime ago.
Big Al's K.C. Bar-B-Q Sauce
-doubled, this makes 5 1/2 C.
2 cups ketchup
2 cups tomato sauce
1 1/4 cups brown sugar
1 1/4 cups red wine vinegar
1/2 cup molasses
4 teaspoons hickory-flavored liquid smoke (a must!)
2 tablespoons butter
1/2 teaspoon garlic powder
1/2 teaspoon onion powder
1/4 teaspoon chili powder
1 teaspoon paprika
1/2 teaspoon celery seed
1/4 teaspoon ground cinnamon
1/2 teaspoon cayenne pepper
1 teaspoon salt
1 teaspoon coarsely ground black pepper
In a large saucepan over medium heat, mix together the ketchup, tomato sauce, brown sugar, wine vinegar, molasses, liquid smoke and butter. Season with garlic powder, onion powder, chili powder, paprika, celery seed, cinnamon, cayenne, salt and pepper.
Reduce heat to low, and simmer for up to 20 minutes. For thicker sauce, simmer longer, and for thinner, less time is needed. Sauce can also be thinned using a bit of water if necessary. Brush sauce onto any kind of meat during the last 10 minutes of cooking.
~my side note:
I let this one simmer for almost 1 hour. then used it the next day to let the flavors merry and thicken up even more.
I made up some coleslaw using this
sauce recipe
here. I have never eaten slaw on a pork sandwich, so I decided to just try it. YUM! It's great! I used a bag of ready to mix shredded coleslaw.
Country Coleslaw
as seen at
Guilty Kitchen
1/2 head of green cabbage, shredded
2 large carrots, peeled and shredded
3/4 cup mayonnaise
3 Tbsp. sugar
1 1/2 Tbsp. White wine vinegar
1/2 tsp. Dijon mustard
1/4 tsp. onion powder
1/4 tsp. dry mustard
Fresh ground black pepper
1 Tbsp lime juice
1/2 cup buttermilk
1/4 tsp salt
1. Combine cabbage and carrots in a large bowl.
2. Combine remaining ingredients in another bowl. Stirring until sugar is dissolved. Combine with cabbage and let stand for 30 minutes prior to devouring.
3. Serve as topping for pulled pork sandwiches, or as a side dish for another meal.
I also made up some of my
Mom's Baked Beans
. Soo soo good! You may half this recipe, since it makes 2 casseroles. I also figured using a bag of frozen peppers and onion mix, then dicing it up a little more was just easier.
2 (30 oz) cans pork and beans
1 Lb. bacon, cut into pieces
1 large white/yellow onion, diced*
1 large green bell pepper, diced*
1 1/2 tsp. Worcestershire sauce
1 Cup ketchup
3/4 Cup brown sugar
1/4 Cup molasses
Combine all ingredients and put into 2 round casserole dishes sprayed with nonstick spray. Cover and bake at 325' for at least 3 hours, stirring occasionally. Undercover for last 30 minutes. These will thicken over time too.
I am sharing this at: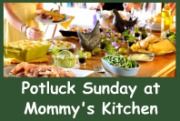 enjoy,