I'm so glad Beryl of Cinemon Girl picked Toasted-Coconut Custard Tart for TWD this week, but more so that I made it. I wasn't going to because maybe just 2/5 of us like coconut, I love it. After reading the rave reviews in the P&Qs I just had to.

I decided to use my 9" spring form pan* for my crust since I do not have a tart pan, and it came out perfect! I love Dorie's crusts, they are the only ones that have ever turned out for me. I was also happy that I could finally use the frozen egg yolks I had leftover from previous recipes using egg whites. *Yes, freeze your yolks in a freezer bag, and thaw in cool water and they are perfectly fine to use, they may be a different consistency at first, but they'll incorporate fine.

Because we're not liqour people I left out the Rum and also the Coriander (thought I had some, but honestly I would not have added it, seems weird). I just added some extra vanilla.
When making the custard, be warned that once it starts to thicken, it goes quick! Mine took maybe 10 minutes from start. I toasted my coconut on the stove, because I always burn it in the oven. This way I could control the toasting of it. Also, please ignore my over whipped cream, it still tasted good!




I really loved this tart! Dorie is right the ratio to cream to custard in this tart is much better than a big pie. It was perfect! Even day 3 was great. This is another Dorie recipe I will be making again. I would definitely make this for company or potluck, and if you like/love coconut, this recipe is one to try! Head over to Beryl's site to get the recipe.




sharing a piece of this over at Tina's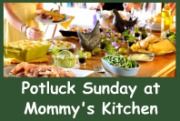 enjoy,