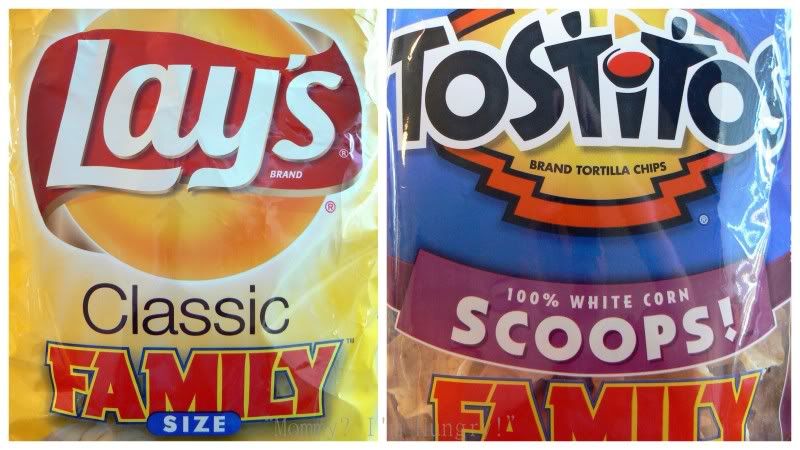 So the kind folks who work with Frito Lay's, asked if I'd like to come up with two healthier dip recipes and pair them with their chips! Chip and dips? Sure I'm in! I thought and thought and though, and decided on twisting one of my favorite dips up a little, it's super simple. I made Chive and Garlic Sour Cream Dip which also has cottage cheese in it! Now don't knock it till you try it! Even my kids loved this dip with Lay's Original potato chips. I also made a Hot Chicken Artichoke Jalapeño Dip to serve with Tostitos Scoops! tortilla chips. Mmm, it's great nice and hot and all cheesy out of the oven. That was my favorite! Using low fat or fat free ingredients will help cut the calories but won't sacrifice flavor and no one knew otherwise! Perfect for those parties coming up.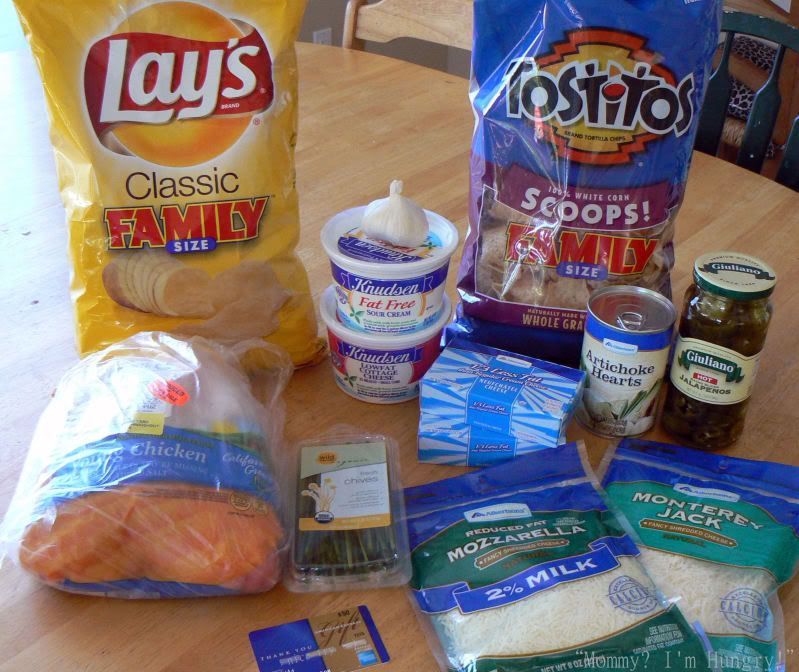 most of my ingredients needed to make these two dips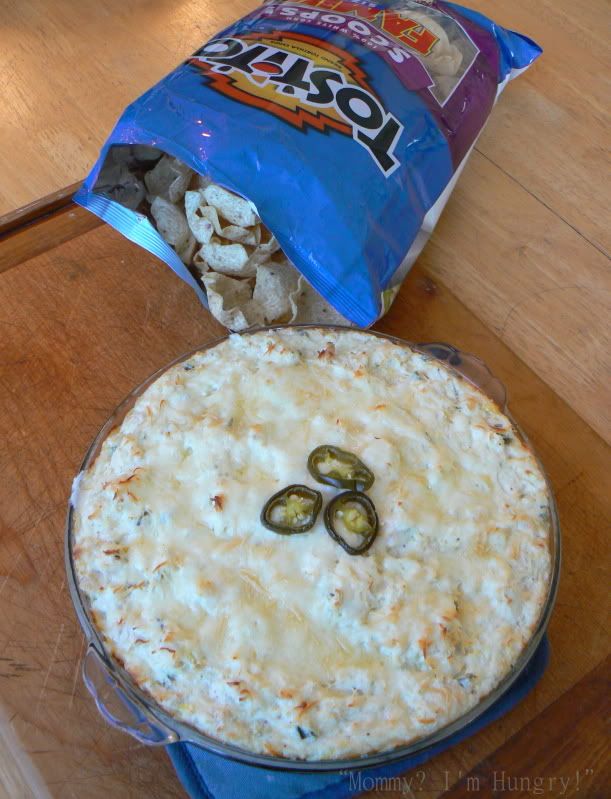 Tostitos Scoops! tortilla chips – also made with just three simple ingredients, Tostitos white corn products offer 8 grams of whole grains per serving
Hot Chicken Artichoke and Jalapeño Dip
2 cups (8 ounces) shredded part-skim mozzarella cheese, 1/2 C set aside
2 (8-ounce) blocks neufchatel 1/3-less-fat cream cheese, softened
1 cup shredded jack cheese, set aside 1/4 C.
1/2 cup fat-free sour cream
1/4 cup (1 ounce) grated fresh Parmesan cheese, divided
3 garlic cloves, crushed
1/4 teaspoon black pepper
1 (14-ounce) can artichoke hearts, drained and chopped
3 TBL jarred Jalapeños, diced and seeded for less heat
2 roasted chicken breasts, diced
Tostitos Scoops! tortilla chips
Preheat oven to 350°.
In a large bowl (or mixer bowl) combine well, 1 1/2 cups mozzarella, cream cheese, 3/4 cups jack cheese, sour cream, 2 tablespoons Parmesan. Stir in the garlic, artichoke hearts, jalapenos and chicken. Pour mixture into a grease pie dish. Sprinkle with 1/2 cup mozzarella, 1/4 cup jack cheese and 2 tablespoons Parmesan. Bake at 350° for 25 minutes or until bubbly and golden brown. Serve hot with Tostitos Scoops! tortilla chips.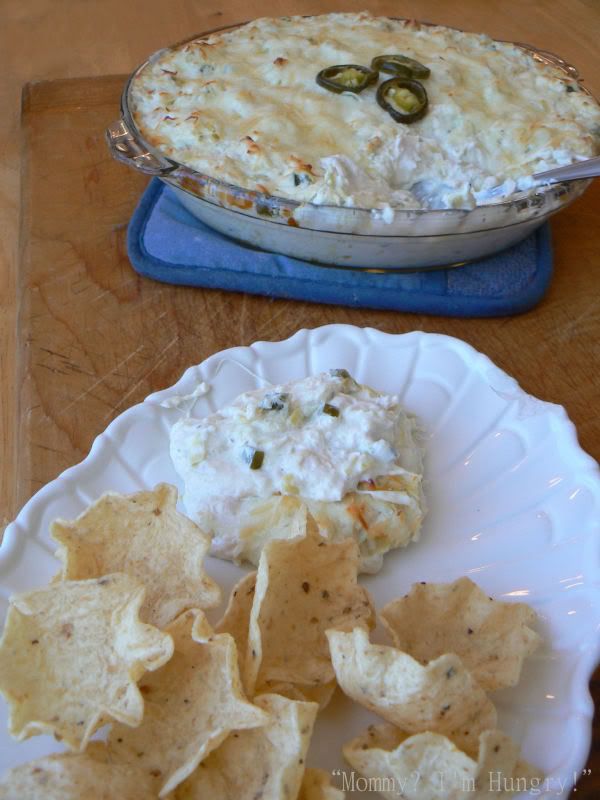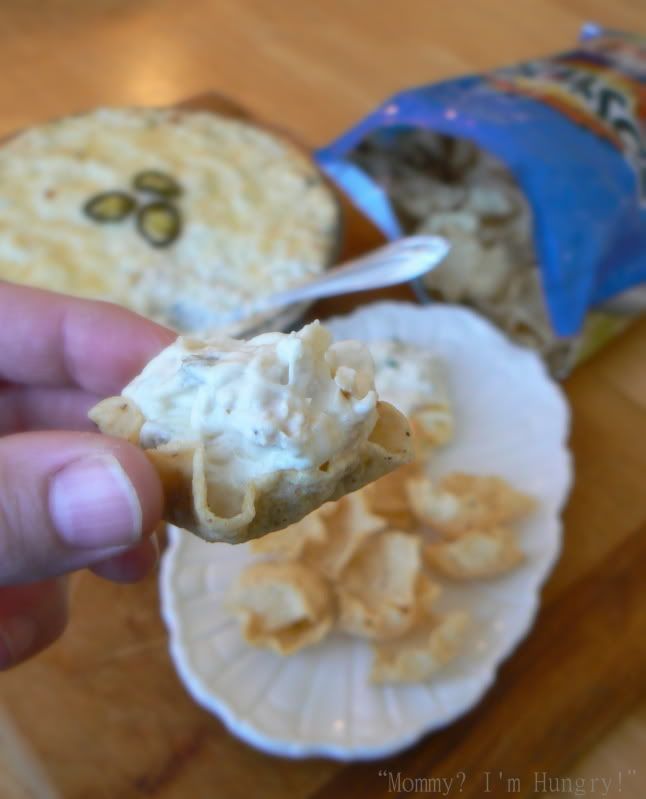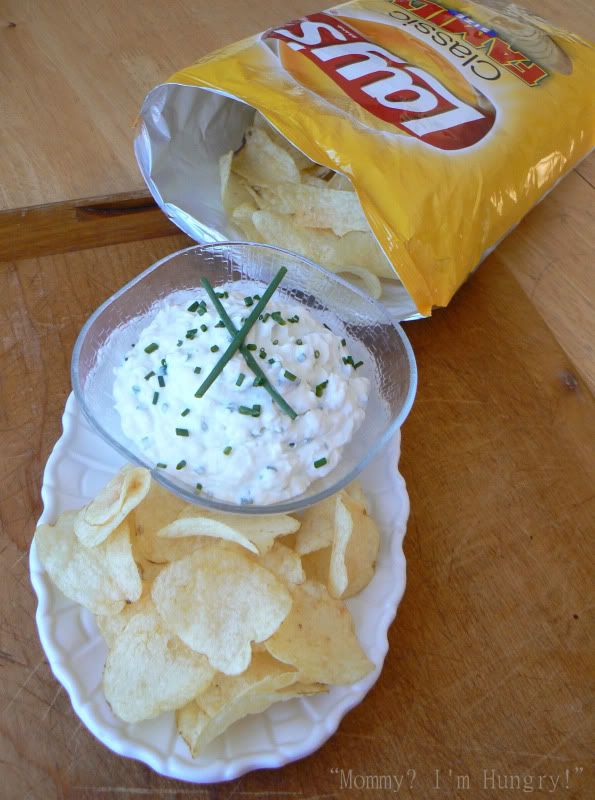 Lay's Original potato chips – made with just potatoes, healthier oils and salt, Lay's are a delicate balance that can be paired well with lighter dips
Chive and Garlic Sour Cream Dip
16 oz fat free sour cream
16 oz low fat, small curd cottage cheese
1 clove garlic, grated
3 Tbl chives, finely chopped
Combine sour cream, cottage cheese, garlic and chives. Refrigerate 1 hour. Serve with Lay's Original potato chips.
Lay's wants to help you with your next party and help you make healthier choices for your party food! They are being very generous and giving one of my readers a $100 gift card for your party shopping trip!!
ONE "Mommy? I'm Hungry!" reader will win a $100 Gift Card!
(This is a must before any extra entries will be accepted!)
1. Become a MIH Blog Follower with either Google Friend Connect or by email and visit their site and tell me what your favorite Frito Lays product is, and share how you might make a dip healthier.
Earn up to 5 extra entries by showing some "Mommy? I'm Hungry!" bloggie

♥

with these rules*!


-Please post yourself 1 separate comment for each entry, Thanks!

2. Follow me on Twitter @MommyImHungry and tweet about this giveaway URL

(use my Tweet buttons above or below this post)




3. Become a MIH Facebook Fan
4. Follow along with
my
MIH
recipe blog
if you're hungry
5. Like Lays on Facebook
6. Follow Lays on Twitter
This Giveaway ends:

11:59 pm pst, Monday, February 14, 2011.
Please read the fine print:
- Open to USA
- Please leave your email
- Winner(s) will be notified by email (check junk files!) & announced on my Blog, Twitter & FB soon after
- I will choose my winner(s) using Random.org
- Winner(s) will have 72 hours to claim their prize before a new winner is chosen
- Important! Please read about my giveaway rules
HERE
*
Be sure to check out my other giveaways too!
I wrote this review for "Mommy? I'm Hungry!" about Frito Lay's potato chips. I received a free gift card to shop for this review and a sponsored giveaway from Frito Lay's. All opinions for this review are that of myself & family. Product info & stock images provided by PR or Co.