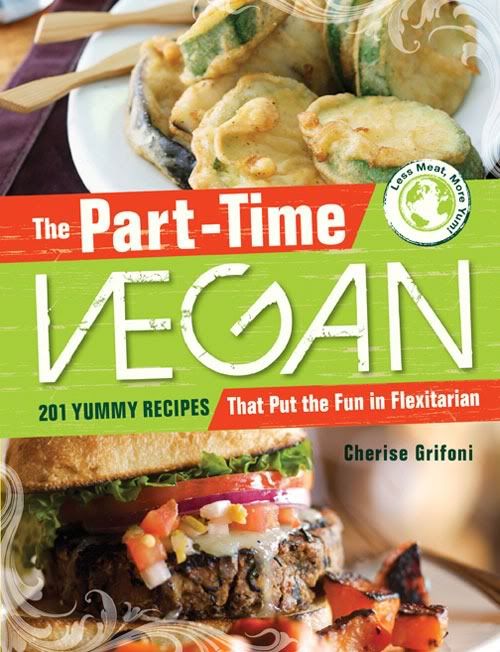 The Part-Time Vegan: 201 Yummy Recipes That Put the Fun in Flexitarian
By Cherise Grifoni.
This is a vibrant new cookbook for people who'd like to try out veganism without any pressure.
In The Part-Time Vegan: 201 Yummy Recipes That Put the Fun in Flexitarian put out by Adams Media, you'll discover how to go vegan without feeling any obligation whatsoever. But a warning: the mouthwatering recipes may have you transitioning to full-time much sooner than you anticipated!
Non-committal? Curious? Or just want to sprinkle a little meatlessness throughout your daily routine?
Newbie veggies will find recipes so fresh, colorful and inventive, you won't even miss your meat - while seasoned herbivores will love the new spins put on dips and appetizers, pasta, soups and desserts!
What's not to love when you're eating:
-Purely Vegan Chocolate-Hazelnut Spread
-Lean, Mean, Black Bean Guacamole
-Very Vegan Potato Pesto Salad
-Spicy Roasted Tomato Soup
-Roasted-Garlic Mashed Taters
-Spanish Artichoke and Zucchini Paella
-Barley Pilaf with Edamame and Roasted Red Pepper
Tofu doesn't have to be a four-letter word...and seitan, TVP and tempeh will be your new BFF! No matter why you want to go vegan - whether it's for health, the planet, or some other worthy reason - this cookbook makes sure you have fun in the process!
We're not practicing veganism, but I chose to review this book for any new healthy recipes we can add to our menu. Sometimes I am happy to make something such as a vegan recipe for my lunch, just because I know they would not eat it (there's a lot of tofu and other great looking recipes in here) so I make it for myself. I was happy to find a quinoa side dish for dinner. Quinoa is new to us, and Mr. was first to try it at some friend's where he was working...so hey! if he liked it, I had to make it! I made the
Mediterranean Quinoa Pilaf.
There's quinoa, veggie broth, balsamic vinegar, lemon juice, olive oil, salt, (fresh) toms, artichoke hearts and kalamata olives in this. WOW! As the quinoa and veggie broth were cooking, it smelled SO good! Once you see the cute little curly tails on the quinoa, then you add in everything else. I am also new to using balsamic vinegar, and was a little taken back on the strong tangy smell once it hit the hot quinoa. It looked good once it was all together. I made everyone taste some, so I could see if it was something to make again. Well, the balsamic and the olives threw us off. Maybe I should've used less balsamic and regular olives, and they would've eaten it. But I have not given up on quinoa, I am looking for more recipes, because we did like it.
I also chose to make Roasted Chick Peas, Please. Another new to us food, roasted style (we've eaten hummus). I have actually been wanting to make these for a while now, and she happened to have a recipe for them. These have cumin, salt, pepper, garlic, paprika and turmeric powder mixed on them. I was surprised how quickly these roast up, 45 mins at 450'. Wow, these smelled great while roasting, and the flavors tasted even better than I imagined. The kids loved them too, they thought they tasted like corn nuts! This was such an easy recipe and a great snack.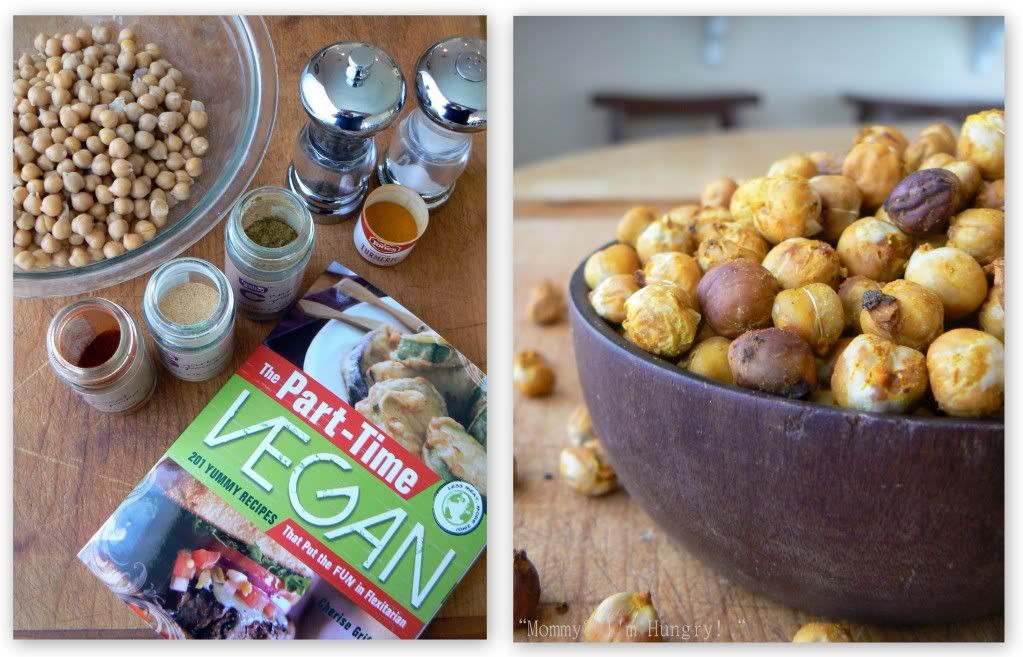 Author Cherise Grifoni is your no-nonsense, quick-witted guide to the seemingly complex world of no-meat, no-eggs, no-dairy! Here she is making her Raw Vegan Chocolate Cheesecake from the book! Check out
her blog here
! Click here to see a
Raw Vegan Chocolate Cheesecake with Cherise Grifoni
from
Madeleine Aronson
on
Vimeo
.
*Disclosure* I wrote this review for "Mommy? I'm Hungry!" about The Part-Time Vegan. The product(s) in this review were provided to me free of cost for the purpose of conducting this event. All opinions expressed in this review are my own and are not influenced by monetary compensation. Product info & stock images provided by PR or Co.