This cute recipe comes from
Betty Crocker
. These are sure to be a kid pleaser! Since these take a little time to roll and twist the dough, get the kids to help out. What I found to be helpful was to roll 3 balls of each color together to 8", this will make them bigger and easier to twist. Roll them on a clean lightly floured surface, not in your hands or they will melt and stick. To get the candy to stick, take the cookies out of them oven 1 minute early and sprinkle them, then place back in the oven for a minute. *I just saw a couple more tips on these cookies from
Delish
: Brush off excess flour with a dry pastry brush before twisting the two colored ropes together. Chill 20 minutes before baking to help the cookies maintain their shape.
These are also part of Susan's Christmas cookie blog event. Check out the
submissions
so far!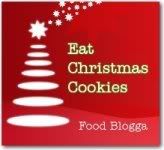 1 cup sugar
1 cup butter or margarine, softened
1/2 cup milk
1 teaspoon vanilla
1 teaspoon peppermint extract
1 egg
3 1/2 cups Gold Medal® all-purpose flour
1 teaspoon baking powder
1/4 teaspoon salt
1/2 teaspoon red food color
2 tablespoons finely crushed peppermint candies
2 tablespoons sugar

Stir together 1 cup sugar, the butter, milk, vanilla, peppermint extract and egg in large bowl. Stir in flour, baking powder and salt. Divide dough in half. Stir food color into 1 half. Cover and refrigerate at least 4 hours.

Heat oven to 375ºF.

Stir together peppermint candy and 2 tablespoon sugar; set aside.

For each candy cane, shape 1 rounded teaspoon dough from each half into 4-inch rope by rolling back and forth on floured surface. Place 1 red and white rope side by side; press together lightly and twist. Place on ungreased cookie sheet; curve top of cookie down to form handle of cane.

Bake about 9 minutes or until set. *Immediately sprinkle candy mixture over cookies. Remove from cookie sheet to wire rack. Cool completely, about 30 minutes.
you can see the little ones compared to the bigger ones