This is a new blog event for me. It's a Cookie Carnival that Kate from The Clean Plate Club hosts. A cookie recipe is distributed monthly amongst participating bloggers, then they bake and tell all about it for the round up. Sounds fun, and guarantees cookies each month! Check out the February round-up here.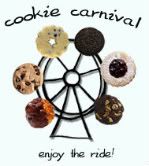 This month's recipe Inside - Out Carrot Cake Cookies couldn't be something more fitting could it? See, this month is my Husband's (the BIG 4 0! Shh!) birthday, and I usually bake a German Chocolate cake or carrot cake for him as those are his favorite. But I have decided to make him the German Chocolate cake, and make these to have now. We're celebrating another Birthday next month, so I'll do a carrot cake for that. Anyways...

If you would like to see this recipe or print it out, click for the handy pdf here.
We thought these were great. Perfect little bite sizes of cake! For the filling, I added in some pecans and whirled it all in the food processor. I kept these stored in a covered container, and they sure turned sticky after each day, but still yummy!

(TIP: use a cookie scoop for uniform sized cookies)

Speaking of baking! Are you creative enough for the 44th Pillsbury Bake-Off Contest?
They are open for entries and looking for the next $1 million recipe... all it takes is one simple idea!
Entries are being accepted online between now and April 20th, 2009, at
http://www.bakeoff.com/
.
(Go check out Jenny from
Picky Palate
, a past contestant, making Breakfast Quiches!)
There are four recipe categories - Breakfast & Brunches, Entertaining Appetizers, Dinner Made Easy and Sweet Treats for you to enter? Will you enter?.
I'm not very creative to make my own recipes, haha, so if you think you are I say Go For It!!
-brought to you by MyBlogSpark

enjoy,