Happy 2nd Blogoversary to "Mommy? I'm Hungry!".
Today my bloggie turns 2! I will add a couple of yummy recipes today to go along with all the Giveaways I have planned!
I'm combining 2 posts into one here. I tried 2 different recipes at different times, so I thought I'd keep them together here for you to compare. I think I preferred Dorie's and Julia's recipe best. The kids sure loved them, and thought they were the coolest thing to watch pop in the oven! They each wanted the biggest one!
Popovers I with Cinnamon Honey Butter.
These are my first ever popovers. I've had them as a kid when my oldest Sister would make them, but never since. I've only just started researching recipes for these, knowing I'd like to make some. Then I came across this pan recently at my favorite 2nd hand shop
(you know, where lots of my food dishes on my blog came from)
for just a few bucks! Score! I decided to go with some adapted recipes from allrecipe's for popovers and then smear them in a yummy butter! I also did some with heated raspberry jam and powdered sugar. I thought they were great!
Popovers
I
adapted from
allrecipes
2 eggs
1 cup all-purpose flour
1 cup milk
1 tsp vanilla
1/2 tsp salt
Preheat oven to 450 degrees F (230 degrees C). Grease and flour six 6-ounce custard cups.
In a medium bowl beat eggs slightly, Beat in flour, milk and salt until just smooth; being careful not to over beat. Fill custard cups 1/2 full.
Bake at 450 degrees F (230 degrees C) for 20 minutes. Decrease oven temperature to 350 degrees F (175 degrees C) and bake for 10 minutes more. Immediately remove from cups and serve piping hot.
Cinnamon Honey Butter
-the best!
adapted from
allrecipes
1/2 cup butter, softened
1/3 cup confectioners' sugar
1/4 cup honey
1 teaspoon ground cinnamon
In a medium bowl, combine butter, confectioners' sugar honey and cinnamon. Beat until light and fluffy. Great on anything!
POPOVERS II
-good!
From Baking With Julia by Dorie Greenspan

1 cup flour
1 cup milk (whole or 2%)
1/2 tsp salt
3 large eggs, at room temperature
2 T melted butter
melted butter for greasing the popover cups or cooking spray
Heat oven to 425. Butter or spray muffin tins or popover cups. This recipe made 6 popovers using popover cups. It should make 9-10 popovers using muffin tins.
Pour all ingredients into a blender and blend until smooth. I found putting the eggs, milk and butter in first, blending for a few seconds and then adding the flour and salt and whirling until smooth prevented the batter from becoming lumpy.
Fill the popover cups 3/4 full, if using muffin tins fill 1/4 cup of batter for each cup. Make sure you alternate muffin cups to give the batter room to expand.
Bake for 25 minutes without opening the oven door. I baked mine for about 23 minutes. Turn down the temperature to 350 and bake for another 15 to 20 minutes, again I used less time, around 13 minutes.
Recipe found online
here
.
sharing this over at: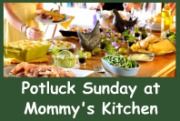 enjoy,