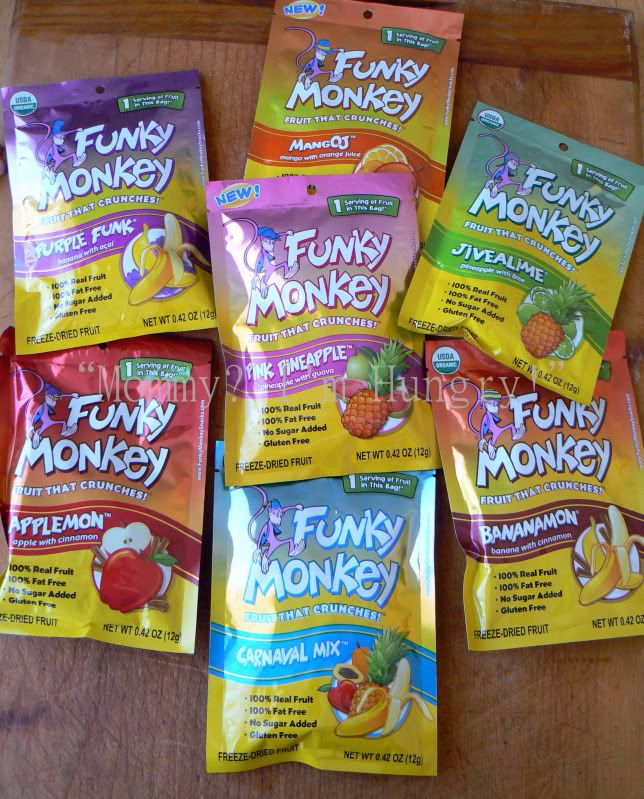 Funky Monkey® Snacks are real fruit snacks, made using a freeze-drying process that creates Fruit That Crunches!® while retaining nearly all of fruit's natural goodness.
Funky Monkey Snacks' larger one-ounce bags contain three of the four daily recommended servings of fruit. Both the one-ounce and 0.42-ounce sizes are available in the following flavors:
•
Applemon
® (Freeze-Dried Apple and Organic Cinnamon)
•
Bananamon
® (Freeze-Dried Organic Banana and Organic Cinnamon)
•
Carnaval Mix
™ (Freeze-Dried Organic Banana, Pineapple, Apple and Papaya)
•
JiveALime
® (Freeze-Dried Pineapple and Lime Juice)
•
MangOJ
® (Freeze-Dried Mango and Orange Juice)
•
Pink Pineapple
® (Freeze-Dried Pineapple and Guava)
•
Purple Funk
® (Freeze-Dried Organic Banana and Organic Açai – (pronounced ah-sigh-EE)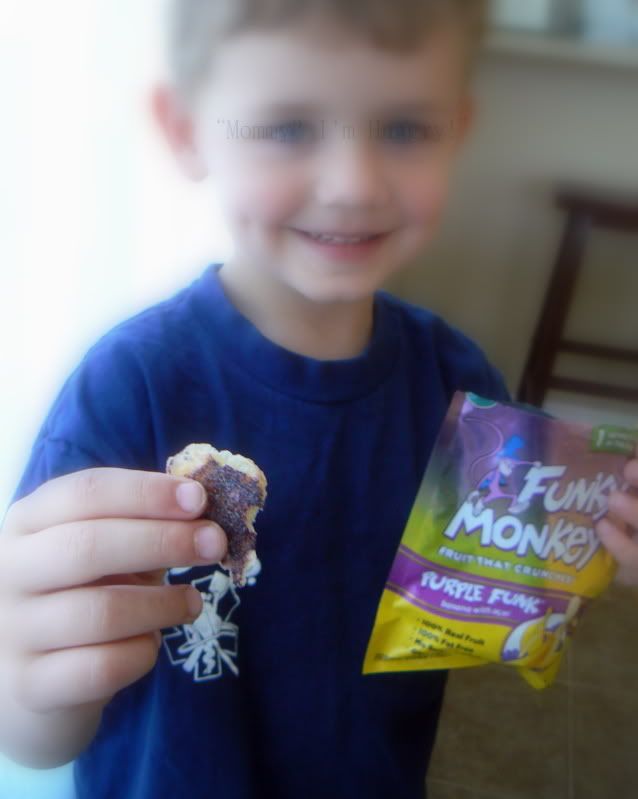 Funky Monkey Snacks are gluten-free, wheat-free, dairy-free, peanut and tree nut free, and contain no added sugars, colors, flavors or preservatives. They are Non-GMO Project verified, vegan, raw and certified Kosher.They are produced in Brazil, near where the fruit is grown to ensure that all of the premium-quality ingredients are harvested and freeze-dried at the peak of freshness.
Different from other freeze-dried fruits on the market which can have a powdery and Styrofoam-like texture, Funky Monkey's proprietary method of freeze drying creates a snack that has the crunchy appeal of more traditional snack foods, with three servings of fruit in every ounce. Full slices and pieces of fruit are used, not small dices typically found in other types of fruit-based snacks.
Funky Monkey's freeze-drying method also uses less energy than other processes by utilizing thermodynamics and steam from a cashew shell-powered boiler. Further supporting its mission to be environmentally respectful, Funky Monkey only uses organic bananas, pineapples, cinnamon, açai and lime juice, eliminating the use of chemicals.
Also, all fruit waste (peels, cores, etc.) is re-used as fertilizer or animal feed, as opposed to taking up space in a landfill.
Funky Monkey Snacks are sold nationwide at major retailers and online at Amazon.com. For more information, visit
http://www.funkymonkeysnacks.com/
,
Twitter
or
Facebook
.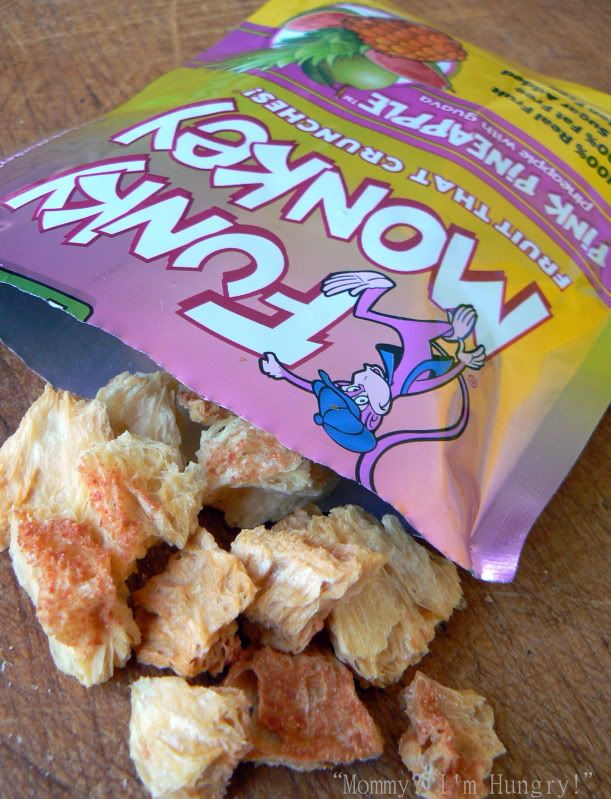 We're no stranger to Funky Monkey snacks, we've reviewed these wonderful snacks before here. This time they sent us a couple of new flavors to try. I loved the Pink Pineapple, it's a little tart from the pineapple but also sweet from the guava and the natural sweetnedd from the pineapple as well. I saved the MangOJ for my oldest, she loves mango anything, and of course loved these! The Carnival Mix is great, it's got some of everything in it. I think all of these were a hit, surely with the kids. They are perfect for a school time snack. I love that they come in single packages, are a dried snack so no messy sticky hands, they taste great and have fun packaging too.
I wrote this review for "Mommy? I'm Hungry!" about Funky Monkey Snacks. I received free product to keep for this review from Funky Monkey. All opinions for this review are that of myself & family. Product info & stock images provided by PR or Co.