Did you know that 83 percent of kids believe that they can help children in other countries in addition to people in their own communities? That's according to the "Kids' Altruism Indicator" conducted in partnership with Parenting magazine. Betty Crocker Fruit Flavored Snacks wants to make it easy for kids to give back locally and globally. This will be made possible through them and the
Win & Give program
!
Now through May kids in the U.S. have an opportunity to instantly win a laptop from specially-marked packages of Betty Crocker Fruit Flavored Snacks. For each laptop won, Betty Crocker Fruit Flavored Snacks will donate this very same laptop to a child in Africa. Isn't that great?
Click here
for more info and a coupon savings!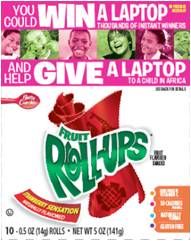 To find out how the laptops positively impact the lives of the children and to learn ways you can talk to your kids about giving back, visit
http://www.winonegiveone.com/
.
The XO laptop was designed especially for children. It has 1 GB of memory and 4 GB of Flash storage, a rugged plastic exterior, built-in wireless, a unique dual mode display that is readable under direct sunlight and software designed for children to encourage exploration, creativity, and collaboration. The retail value of this laptop is $199.
For more information on the laptop,
here are some specs
.
ONE "Mommy? I'm Hungry!" fan will win an XO Laptop
and a variety pack of Betty Crocker Fruit Flavored Snacks!

Become a MIH Blog Follower with Google Friend Connect (see side bar) and let me know in a paragraph/story form, how you and your family give back to your community and/or to others around the world.

This giveaway will run longer than others, allowing you time to write your response/entry, so no need to rush it. There will not be any extra entries to this giveaway, since this will be based on the most sincere and heart warming response. So think this out, write it up (or you may also post me a video if you really want to get creative!), and I will be choosing a winner that next Sat.
This Giveaway ends:

11:59 pm pst, Friday April 29
, 2011.
Please read the fine print:
- Open to USA
- Please leave your email
- Winner(s) will be notified by email (check junk files!) & announced on my Blog, Twitter & FB soon after
- I will choose my winner(s) based on the most compelling story!
- Winner(s) will have 72 hours to claim their prize before a new winner is chosen
- Important! Please read about my giveaway rules
HERE
*
Be sure to check out
my other giveaways
too!
I wrote this giveaway for "Mommy? I'm Hungry!" about Betty Crocker & XO Laptop. Product info & stock images provided by PR or Co.
Giveaway provided by Betty Crocker & XO Laptop.