click photos for full view

Earlier this month we celebrated a Birthday in our family. Brooke from Conversations With A Cupcake blogged about her colorful fruity cake, and I knew I had to make one for my little girl who's now 6! How fun is this cake?

This was a HUGE hit! She didn't know about it being rainbow until I cut into it! I shared a preview of this on Facebook, and everyone loved it. It was the tallest cake I have ever made! So tall I had to remove shelves in my fridge! Even though the layers aren't a full layer size, the cake still equals out to being 4 regular layers tall, each cut in half, get it?
Each layer has it's own wonderful fruity flavor! *I used a 16 oz bag of frozen berry medley which had the berries I needed.
I used a double batch of frosting, and it wasn't enough. As you can see it's pretty much plain, I didn't have enough for piping and such. So make a triple batch if you want to decorate all out.
*Here's a cake support tip: stick a cake dowel rod in the middle of the whole cake to keep it in place!
(I just noticed, you can see how tall it is, sitting next to a gallon of milk in the fridge!)

Double batch of boxed white cake mix -2 boxes
(or homemade batches if you prefer minus the egg, water, oil below)

6 eggs
1 c. water
2/3 c. vegetable oil
Zest of 1 orange + 2 T. juice
Zest of 1 lemon + 2 T. juice
Zest of 1 lime + 2 T. juice
1/2 c. fresh or frozen raspberries, mashed
1/2 c. fresh or frozen blueberries, mashed
1/2 c. fresh or frozen blackberries, mashed
Wilton's gel icing colors
in red, orange, yellow, green, blue and purple
6 bowls
6 disposable round 8" foil cake pans (square pans would be fun too, check the $1 store!)
Make the batter for the cake as directed using the eggs, water and oil. Scoop 1 Cup of cake batter in each of the 6 bowls.
In the first bowl, mix raspberries and 1/4 tsp. red coloring in the batter.
In the second bowl, mix orange zest and juice, and 1/2 tsp. orange coloring.
In the third bowl, mix lemon zest and juice and 1/4 tsp. yellow coloring.
In the fourth bowl, mix lime zest and juice and 1/4 tsp. green coloring.
In the fifth bowl, mix blueberries and 1/4 tsp. blue coloring.
In the sixth bowl, mix blackberries and 1/4 tsp. purple coloring.
Prepare six 8 inch cake pans by greasing and flouring each generously. Using a spatula, spoon and spread each color of batter into its own cake pan. Bake in an oven, preheated to 350 degrees for 17-20 minutes, or until tops spring back when touched lightly. Allow to cool completely. Frost.
Cream Cheese Icing
(For this cake, I doubled it -to the right)
1/2 c. butter (softened) -1C.
8 oz. pkg cream cheese (softened) -16 oz.
4 c. (1 lb) confectioner's sugar -8 C. (2 lb)
1 tsp Vanilla or lemon extract
Cream butter and cream cheese until smooth. Add sugar and extract. Beat on high speed until smooth, light and fluffy. Frost cake.
I am sharing a piece with Tina @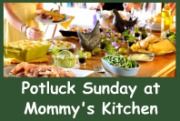 enjoy,